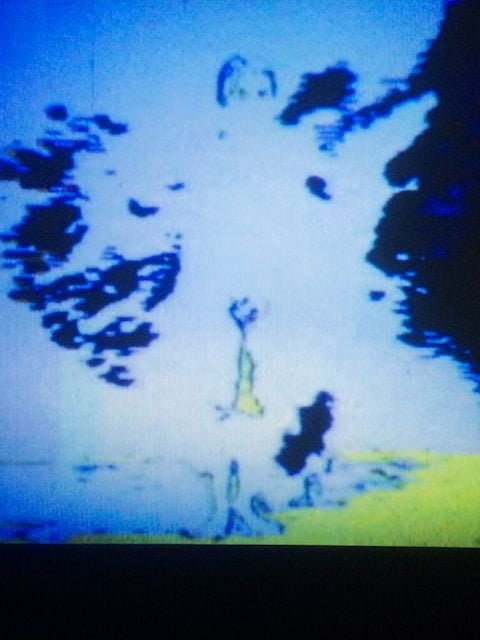 [vc_row][vc_column][vc_single_image image="3462″ img_size="full"][/vc_column][/vc_row][vc_row][vc_column][vc_empty_space height="50px"][vc_column_text]Traces
Ana Mendieta
Hayward Gallery
Southbank, SE1
photos: nathaliehambro
In the early hours of the morning of Sept. 8, 1985, Carl Andre, a successful avant-garde sculptor, argued with his artist wife, Ana Mendieta, who then somehow "went out of the window" (Mr. Andre's phrase during his emergency call to 911) of their 34th-floor Greenwich Village apartment. She may have committed suicide, as Mr. Andre claimed, or he may very well have thrown her, since she weighed only 93 pounds compared to his 175. There were no eyewitnesses. A doorman in the street below had heard a woman screaming "No, no, no, no," then the explosive thud of Ana Mendieta's body landing on the roof of an all-night delicatessen. The bedroom from which she plunged was in disarray, Mr. Andre had what appeared to be fresh scratches on his nose and forearm, and his story to the police differed from his recorded statements to the 911 operator an hour or so earlier. The police arrested him.
Cuban-born American artist Ana Mendieta (1948-1985) was sent from her native homeland to an orphanage in Iowa at the age of 12 and dedicated her entire life to the search for her origins and identity. In her work, she left haunting traces of her body fashioned from flowers, tree branches, mud, rocks, sand, gunpowder, and fire. Her fragile yet powerful works speak of the desire to connect with the earth and to explore a mythical relationship with nature. Mendieta's works are rooted in cathartic exercises, relieving the pain of the trauma of an early exile.
The exhibition shows the full breadth of Ana Mendieta's work. Mendieta was part of a generation of innovative artists whose work no longer fitted the conventions of exhibition making and collecting of art. Covering her entire career, and revealing different facets of her unique practice, Traces positions Mendieta as an influential figure from art history, reveal the creative mind of the artist, and convey the legacy of her work as well as its relevance for artists today.
One of the focal points of the exhibition is the re-construction of solo exhibitions from the artist's lifetime, including her main body of works, Siluetas. The extensive and fascinating archive material sheds a new light on the way the artist worked and documented her own artistic practice. Featuring super-8 films, photographs, slides, drawings, prints, objects and sculptures, Ana Mendieta: Traces not only follow a chronology, but looks at the artist's entire oeuvre through the lens of her own time, bringing it afresh to the beginning of the 21st century. Traces focuses both on the incredible power of the artist's imagery as well as her critical potential and importance for feminism, land art, and her support for ethnic minorities.
Mendieta's short career was prolific and began with an accomplished and influential body of work created as a graduate student at the University of Iowa. As a student Mendieta became interested in the inter-action between performative rituals and sculpture and important motifs for her life-long practice emerged during these years, including the use of blood, feathers, fire, earth, and the body. Mendieta also began to draw upon and recreate rituals particularly resonant with Afro-Cuban and Catholic traditions, and goddess archetypes.[/vc_column_text][/vc_column][/vc_row][vc_row][vc_column][vc_empty_space height="50px"][vc_single_image image="3463″ img_size="full"][vc_empty_space height="50px"][vc_single_image image="3464″ img_size="full"][vc_empty_space height="50px"][vc_single_image image="3465″ img_size="full"][vc_empty_space height="50px"][vc_single_image image="3466″ img_size="full"][vc_empty_space height="50px"][vc_single_image image="3467″ img_size="full"][vc_empty_space height="50px"][vc_single_image image="3468″ img_size="full"][vc_empty_space height="50px"][/vc_column][/vc_row][vc_row][vc_column][vc_column_text css_animation="none" el_class="with-link"]

    back to ART DIARY[/vc_column_text][/vc_column][/vc_row]