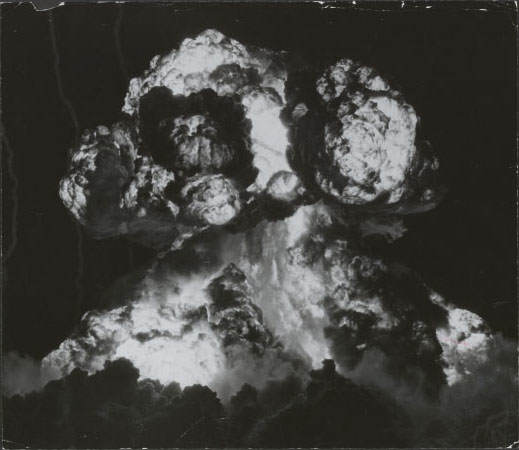 [vc_row][vc_column][vc_single_image image="3843″ img_size="full"][/vc_column][/vc_row][vc_row][vc_column][vc_column_text]Jay Eyerman
"Operation Upshot-Kuothole, A-bomb test. Yucca Flat, NV"
March, 1953
A-Bomb, Pictures of Disaster
Daniel Blau Gallery
51 Hoxton Square, N1
'Though the poetics of the atomic sublime might reassuringly couch its explosive potential in the language of nature, still it was a product of man, of culture.'
( Peter B. Hales, The Atomic Sublime)
This inaugural exhibition at Daniel Blau's London gallery makes a particular statement about the development and positioning of vintage photography. Presented with an historically grounded, extraordinarily beautiful set of photographs that have come to stand as powerful visual icons, representing a salient period of international politics: The Cold War.
The image of the atomic bomb is one of unique and horrific beauty: The pictures of atomic bomb explosions — ranging from New Mexico USA, to the actual and affecting George R. Caron photographs shot from a mili- tary plane over Hiroshima — stand as representations of the difference between sublime artwork and frightful document.
This exhibition incorporates a variety of photographs, including US Navy and Air Force images of nuclear bomb tests by Edgerton and Eyerman – the former a scientific photographer and the latter with tendencies towards surrealism.
This unique and historic collection of images span the period 1945 – 1970 to form a visual narrative full of power, horror and agressive beauty.[/vc_column_text][/vc_column][/vc_row][vc_row][vc_column][vc_empty_space height="50px"][/vc_column][/vc_row][vc_row][vc_column][vc_column_text css_animation="none" el_class="with-link"]

    back to ART DIARY[/vc_column_text][/vc_column][/vc_row]