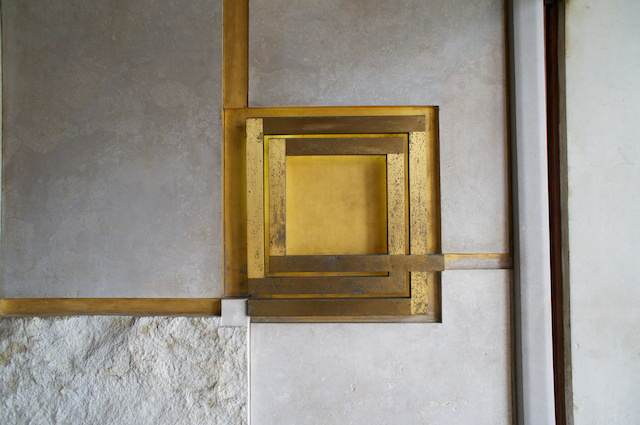 [vc_row][vc_column][vc_single_image image="3670″ img_size="full"][/vc_column][/vc_row][vc_row][vc_column][vc_empty_space height="50px"][vc_column_text]Negozio Olivetti
Venice
photos & video: nathalie hambro
Widely recognized for their Ettore Sottsass-designed Valentine typewriter, one of Olivetti's less celebrated design accomplishments is the company's Venice showroom and store. Architect Carlo Scarpa spent two years conceiving the space with a focus on transparencies and materials after commissioned by Adriano Olivetti in the late '50s, leading to what became one of the most significant architectural achievements of the 20th century.
Located on Venice's Piazza San Marco, 14 years ago the Olivetti store was turned into a souvenir shop. In 2010 the space's owner, Assicurazioni Generali, began working with the Venice Heritage office to painstakingly refurbish the shop to its original appearance, reinstating authentic materials, forms and color schemes. They also turned to the glorious Italian cultural institution, FAI to protect and manage the building, which is filled with a unique collection of typewriters and calculators donated by Olivetti that's now open to the public for regular visits along with the rest of the space.
The showroom-slash-museum provides exhaustive testimony to Carlo Scarpa's construction expertise, taste and sophistication in the dialogue between old and new—skills that enabled him to design a classic in a city of architectural icons. The Negozio Olivetti is made of savvy construction details, balanced contrasts and constant maniacal research into lettering and texts, the results of which were never so eloquent as they are in the Olivetti Showroom.
One focal point of the renovated store is Alberto Viani's Nudo al Sole—a sculpture that the architect put above a black Belgian marble plinth covered by water. To achieve the right amount of light, Scarpa increased the number of windows, illuminating the irregularly-shaped mosaic glass floor which changes color in each area. The main entrance is red, the central section almost white, the side entrance blue and the rear yellow.[/vc_column_text][/vc_column][/vc_row][vc_row][vc_column][vc_empty_space height="50px"][vc_single_image image="3671″ img_size="full"][vc_empty_space height="50px"][vc_single_image image="3672″ img_size="full"][vc_empty_space height="50px"][vc_single_image image="3673″ img_size="full"][vc_empty_space height="50px"][vc_single_image image="3674″ img_size="full"][vc_empty_space height="50px"][vc_video link="https://youtu.be/F_7F_QheZhQ"][vc_empty_space height="50px"][/vc_column][/vc_row][vc_row][vc_column][vc_column_text css_animation="none" el_class="with-link"]

    back to ART DIARY[/vc_column_text][/vc_column][/vc_row]