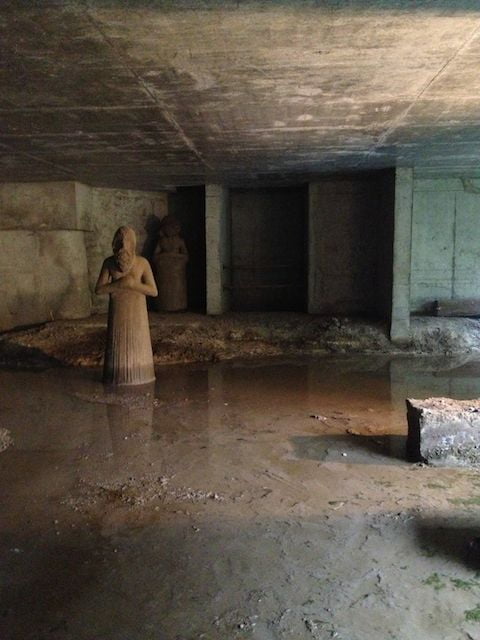 [vc_row][vc_column][vc_single_image image="3471″ img_size="full"][/vc_column][/vc_row][vc_row][vc_column][vc_empty_space height="50px"][vc_column_text]DIG
Daniel Silver
The Odeon Site
24 Grafton Way, WC1E 6DB
till November 3
photos: nathalie hambro
An abandoned, overgrown landscape in central London is the site for a new Artangel commission by sculptor Daniel Silver.
Evidence from some kind of archaeological endeavour is lying around; figures and fragments, pieced together. Made in a range of materials including marble, plaster and terracotta, the figures have been worked by hand; modelled and then eroded and deformed. Some seem to have strange, unnatural growths. They appear to be both ancient and modern.
What were they doing here? What are they doing here? What belief system might they embody or watch over? Are they sculptures of gods or men? Like unearthed objects from an unfamiliar culture, Silver's sculptures do not give up their secrets easily.
One starting point for Digwas Silver's fascination with Freud's collection of sculptures. Freud kept an 'audience' of some of his favourite figurines – Egyptian, Greek, Indian, Asian and African – on his desk in his consulting room, watching over him and his patients as they dug deep within themselves. Freud often referred to archaeology as a metaphor for his own practice of uncovering desires and phobias.
There appear to be different layers of excavation in Silver's project: Digging into the role of figures of worship, idols and fetishes within different cultures, including our own; and working through the evolution of sculptural forms across time and place, losing old powers and acquiring new meanings as they are fragmented, pieced together and multiplied.
Built in the early 20th century and originally the site of one of London's largest Odeon Cinemas, the Grafton Way site of DIG has been empty for many years.[/vc_column_text][/vc_column][/vc_row][vc_row][vc_column][vc_empty_space height="50px"][vc_single_image image="3472″ img_size="full"][vc_empty_space height="50px"][vc_single_image image="3473″ img_size="full"][vc_empty_space height="50px"][vc_single_image image="3474″ img_size="full"][vc_empty_space height="50px"][vc_single_image image="3475″ img_size="full"][vc_empty_space height="50px"][vc_single_image image="3476″ img_size="full"][vc_empty_space height="50px"][vc_single_image image="3477″ img_size="full"][vc_empty_space height="50px"][vc_single_image image="3478″ img_size="full"][vc_empty_space height="50px"][vc_single_image image="3479″ img_size="full"][vc_empty_space height="50px"][/vc_column][/vc_row][vc_row][vc_column][vc_column_text css_animation="none" el_class="with-link"]

    back to ART DIARY[/vc_column_text][/vc_column][/vc_row]