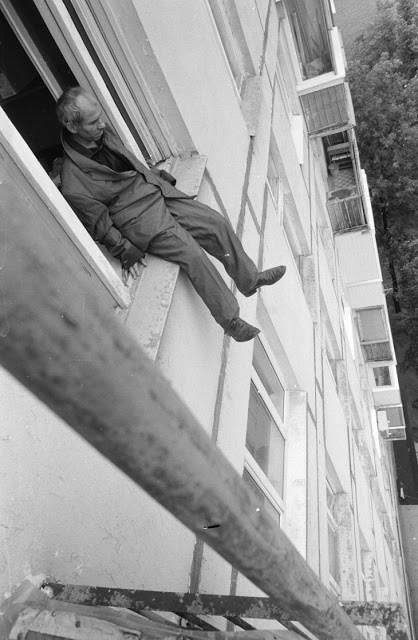 [vc_row][vc_column][vc_single_image image="3615″ img_size="full"][/vc_column][/vc_row][vc_row][vc_column][vc_column_text]Vikenti Nilin, From the Neighbours Series, 1993
The stars of Vikenti Nilin's 'Neighbours' series probably come from all walks of life but they have one thing in common: they are staring into their own abyss, conveniently found in the familiar surroundings of the commonplace Soviet tower block. Yet they don't seem in the least bit worried. Deadpan doesn't begin to sum up the mood hanging around Nilin's black and white portraits. The expressions on his subjects, as they perch on the edge of windowsills and balconies, are phlegmatic, unimpressed, relaxed and almost bored.
Vikenti Nilin's photographs and installations are glacially sardonic, direct and to the point, but their oblique meaning can end up provoking nervous laughter. His images suggest a state of incarnate passivity, suspension and permanent transition, perhaps morosely alluding to the state of politics in his home country.
GAIETY IS THE MOST OUTSTANDING FEATURE OF THE SOVIET UNION
Saatchi Gallery
Duke of York's HQ
King's Road, SW3 4RY
photos: nathalie hambro
Most of the artists in the exhibition, which takes its title from a speech delivered by Joseph Stalin in 1935, are young and emerging, and have rarely shown their work internationally; the exhibition will also present Boris Mikhailov's highly acclaimed photographic project, Case History, which documents his hometown of Kharkov following the disintegration of the Soviet Union. Witnesses to the break-up of the Soviet Union and the perestroika years, the artists in this exhibition have absorbed the complexities of life in Russia and created a wide variety of works in response. Some of them play on Russia's long and rich tradition of jokes and a distinctive sense of humour which also find its way into political satire. Others draw on the influential wave of modernist art in Russia, particularly Malevich and Rodchenko, as well as important contemporary Russian artists such as Ilya Kabakov. As Dimitri Ozerkov, director of the Contemporary Art Department of The State Hermitage Museum, St Petersburg, says about the artists in his introduction to the exhibition catalogue: "Their art is multifocal and transcendent, poetic and hypocritical, politicized and romantic. It is probably the most global art in the world but still very much related to its origins."[/vc_column_text][/vc_column][/vc_row][vc_row][vc_column][vc_empty_space height="50px"][vc_single_image image="3616″ img_size="full"][vc_empty_space height="50px"][vc_single_image image="3617″ img_size="full"][vc_empty_space height="50px"][vc_single_image image="3618″ img_size="full"][vc_empty_space height="50px"][vc_single_image image="3619″ img_size="full"][vc_empty_space height="50px"][vc_single_image image="3620″ img_size="full"][vc_empty_space height="50px"][vc_single_image image="3621″ img_size="full"][vc_empty_space height="50px"][vc_single_image image="3622″ img_size="full"][vc_empty_space height="50px"][/vc_column][/vc_row][vc_row][vc_column][vc_column_text css_animation="none" el_class="with-link"]

    back to ART DIARY[/vc_column_text][/vc_column][/vc_row]