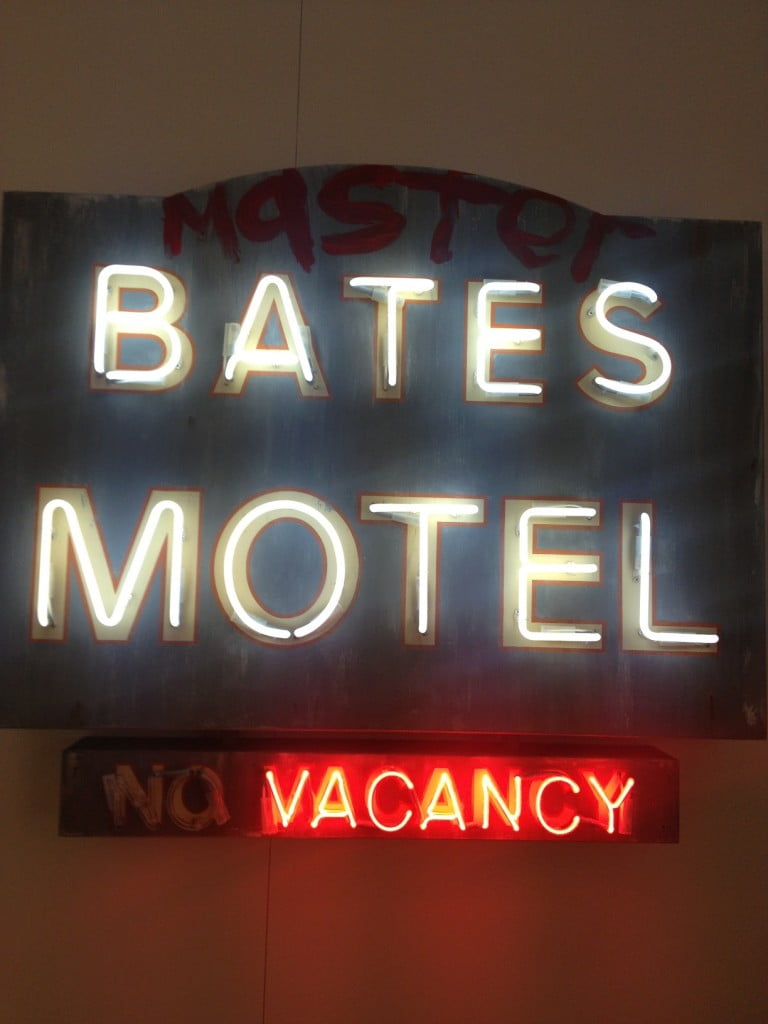 [vc_row][vc_column][vc_single_image image="3523″ img_size="full"][/vc_column][/vc_row][vc_row][vc_column][vc_empty_space height="50px"][vc_column_text]Psycho Nacirema
James Franco in collaboration with Gordon Douglas
Pace Gallery
6-10 Lexington Street, W1F 0LB
till July 27
photos & videos: nathalie hambro
Psycho Nacirema actor James Franco's extra-curricular creative ambitions are fabled. He makes art, pens short stories and poetry and in the last half decade has studied at UCLA, Yale, Columbia and the Rhode Island School of Design. He can even fly a plane.
Franco's installation heighten the psychological entrapment set out by Hichcock, beckoning the audience to become a participating character within the plot. Split Marion, 2013, a diptych mirror installation, prompts the viewer to join the artist to gaze and be gazed upon, projecting themselves as the characters ,(see last image of this author participating), of Marion Crane and Norman Bates. Compelled to identify with them, the audience is forced to recognise their own neurosis and psychological inadequacies generated by the silver screen.
So far his determination to try his hand at what sounds like a positively gruelling number of different disciplines (actually we forgot curator, see our story, left) has attracted more curiosity than the outcome of said endeavours. He's also got a lot of preconceptions to leap frog: shouldn't artists struggle? Isn't it a full-time calling? His fame and financial muscle gets in the way.
It makes more than one kind of sense then, that Franco, who has plenty of top-notch experience in front of and behind the camera while being the subject of media speculation and public fascination, would be interested in probing movie voyeurism and the point where Hollywood myth overpowers the facts. For his London gallery debut, Psycho Nacirema, a large-scale installation with videos, he's recreating Psycho's Bates Motel, under the guidance of Douglas Gordon, whose own take on Hitchcock's classic, 24 Hour Psycho, slowing down the film to a day-long run, proved the lauded Scottish artist's breakthrough work.
Plenty of ink has been spilled on the shower scene's sexual overtones, Norman Bates' peeping, the voyeurism of the camera and the audience. Franco's adding yet another layer of sordid intrigue, interweaving his reconstruction with elements referencing a real-life hotel murder: the apparent savaging in 1921 by the highest paid silent film star Fatty Arbuckle, of a little-known aspiring starlet named Virginia Rappe. It's recounted in typically salacious style in Kenneth Anger's scandal-mongering book, Hollywood Babylon.
Beyond our fascination with fallen celebrities, it's safe to say that an exploration of masculinity, sex and violence is on the cards. These themes have featured heavily in Franco's earlier art offerings, a New York gallery debut in 2010 tapping boyish bravado and aggressive male energy, and Rebel, a collaborative installation inspired by the behind-the-scenes life of Rebel Without A Cause, which premiered at the Venice Film Festival in 2011.[/vc_column_text][/vc_column][/vc_row][vc_row][vc_column][vc_empty_space height="50px"][vc_single_image image="3524″ img_size="full"][vc_empty_space height="50px"][vc_single_image image="3525″ img_size="full"][vc_empty_space height="50px"][vc_single_image image="3526″ img_size="full"][vc_empty_space height="50px"][vc_single_image image="3527″ img_size="full"][vc_empty_space height="50px"][vc_single_image image="3528″ img_size="full"][vc_empty_space height="50px"][vc_single_image image="3529″ img_size="full"][vc_empty_space height="50px"][vc_single_image image="3530″ img_size="full"][vc_empty_space height="50px"][vc_single_image image="3531″ img_size="full"][vc_empty_space height="50px"][vc_single_image image="3532″ img_size="full"][vc_empty_space height="50px"][/vc_column][/vc_row][vc_row][vc_column][vc_column_text css_animation="none" el_class="with-link"]

    back to ART DIARY[/vc_column_text][/vc_column][/vc_row]