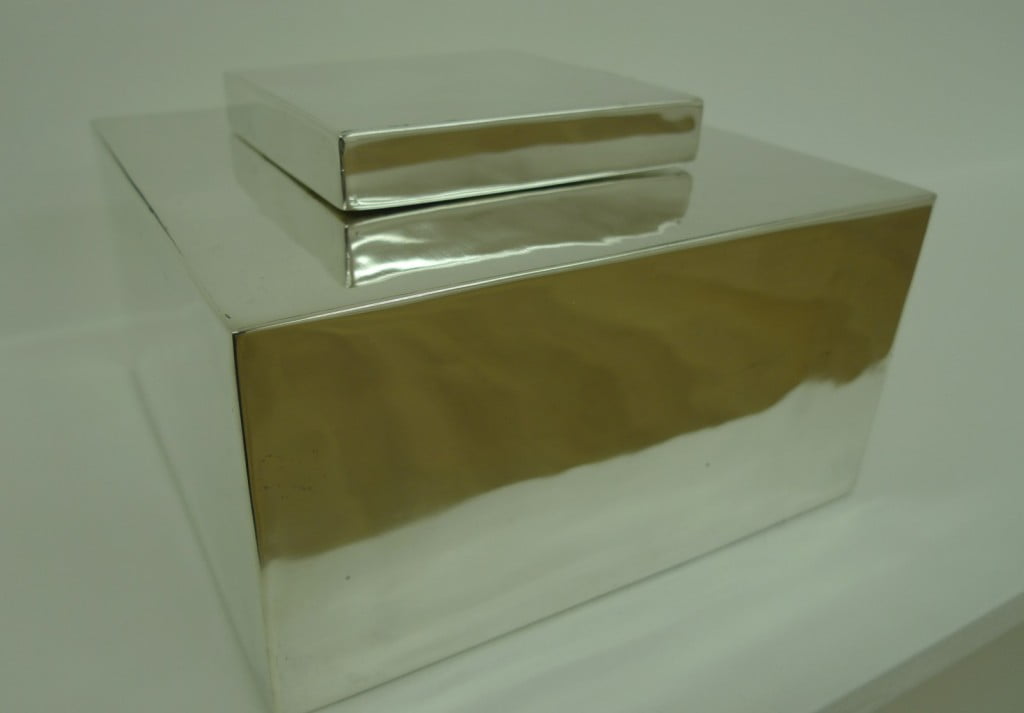 [vc_row][vc_column][vc_single_image image="3897″ img_size="full"][/vc_column][/vc_row][vc_row][vc_column][vc_empty_space height="50px"][vc_column_text]Alexander McQueen
Suicides
Not Vital
Ben Brown Fine Arts
12 Brook's Mews, W1K 4DG
+44 (0)20 7734 8888
until August 28
photos: nathalie hambro[/vc_column_text][/vc_column][/vc_row][vc_row][vc_column][vc_empty_space height="50px"][vc_single_image image="3898″ img_size="full"][vc_column_text]Virginia Woolf
The exhibitions is centred around eleven sculptures, these are based on a selection of famous artists, writers, an architect, a musician, from Borromini to Sid Vicious. The connection between these historical people is suicide and the ongoing public admiration for their creative work.
Each "portrait" consists of two simple rectangular silver blocks placed on the top of each other. The shimmering silver sculptures were fabricated by silversmiths in Agadez, Niger, where Vital lives for part of the year in a mud house.
Watanabe Kazan
The dimensions and shape of each "portrait" accord with the date of each individual death, while the base is defined by the year of the death, the upper block relates to the month and day.
These, on first view "memorial-like" sculptures, are more representative of the individual death than the individual themselves. Each sculpture is given a singular concrete shape by the date of death.
Ernest Hemingway[/vc_column_text][vc_empty_space height="50px"][/vc_column][/vc_row][vc_row][vc_column][vc_column_text css_animation="none" el_class="with-link"]

    back to ART DIARY[/vc_column_text][/vc_column][/vc_row]