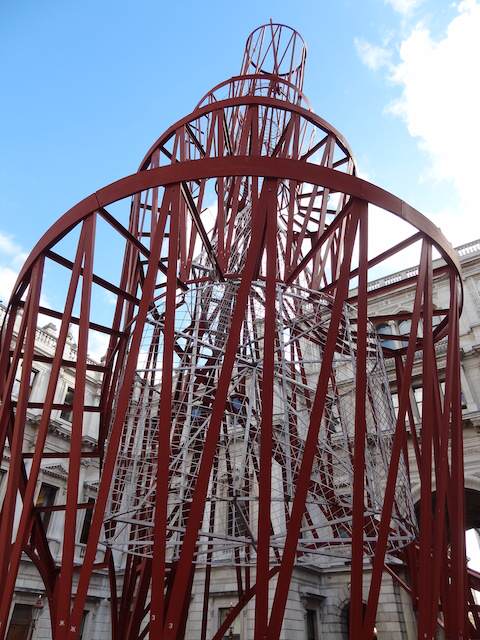 [vc_row][vc_column][vc_single_image image="3764″ img_size="full"][/vc_column][/vc_row][vc_row][vc_column][vc_empty_space height="50px"][vc_column_text]Tatlin Tower
Royal Academy Annenberg Courtyard
photos: natalie hambro
To coincide with Building the Revolution – Soviet Art & Architectue, 1915-1935, Jeremy Dixon has been commissioned to create a 10m-high scale model of the tower for the academy's courtyard. Tatlin's Tower was designed as an iconic monument to the Russian revolutionary congress yet it was never built. Now a scale model of it has been specially re-created for the RA courtyard.
The re-creation of 'Tatlin's Tower' in the RA courtyard is a little than the artist and architect Vladimir Tatlin envisaged when he designed it in 1920. He proposed a great leaning double-helix that would rise to 400 metres, which is almost 100m higher than the Eiffel Tower, and considerably wider.
Its official title was Monument to the Third International (the revolutionary congress of that name had taken place in 1919) and it was intended to mark the Soviet revolution in Petrograd (St Petersburg) in much the same way that the Eiffel Tower was built to commemorate the French Revolution in Paris – a century after the event. Tatlin's Tower would have stretched right across the River Neva.
This monument was intended as a conference and administration hub, as well as a propaganda broadcast centre and all-purpose symbol for international revolution. Talking of revolution, buildings slung within its armature would have rotated at different speeds, (a year, a month, a day) making it not only a huge metaphor but also the world's largest perpetual calendar.
Never built, Tatlin's Tower passed into mythology. It has been a potent symbol for both the Left and for those artists and architects influenced by Russian Constructivism: Richard Rogers RA, Zaha Hadid RA and Anish Kapoor RA all acknowledge it. Renzo Piano and Richard Rogers' 1976 Pompidou Centre in Paris, though different in form, embodies its spirit of buildings contained within a dynamic frame. The idea had been passed down through another massively influential unbuilt project, architect Cedric Price's east London Fun Palace of 1961.
Today, architects and city planners, especially in the Far East, are developing new megastructures, which include entire, high-density cities with many buildings contained within an ordering structural framework (see Will Alsop's new Gao Yang International Cruise Terminal, Shanghai), or closer to home, Anish Kapoor's Orbit tower for London Olympic Park*. This makes Tatlin's concept of a sculptural steel frame with multiple uses, that is also a powerful symbol, highly relevant today.
* view: PUDDING MILL LANE, July 2011[/vc_column_text][/vc_column][/vc_row][vc_row][vc_column][vc_empty_space height="50px"][vc_single_image image="3765″ img_size="full"][vc_empty_space height="50px"][vc_single_image image="3766″ img_size="full"][vc_empty_space height="50px"][vc_single_image image="3767″ img_size="full"][vc_empty_space height="50px"][/vc_column][/vc_row][vc_row][vc_column][vc_column_text css_animation="none" el_class="with-link"]

    back to ART DIARY[/vc_column_text][/vc_column][/vc_row]