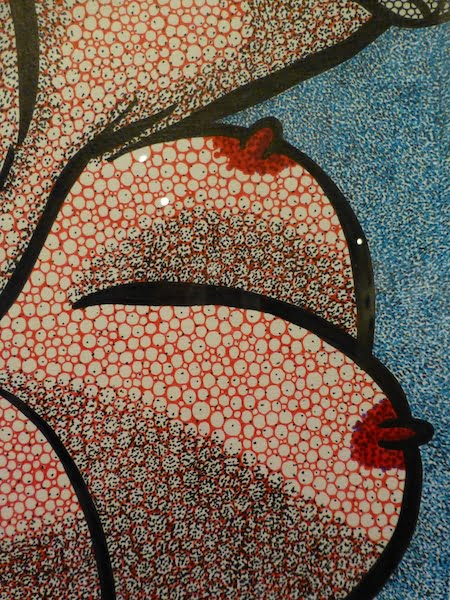 [vc_row][vc_column][vc_single_image image="3545″ img_size="full"][/vc_column][/vc_row][vc_row][vc_column][vc_empty_space height="50px"][vc_column_text]Souzou, Outsider Art from Japan
Wellcome Collection
183 Euston Road, NW1 2BE
till June 30
* concurrently there is a show by self-taught American artists at Large Glass Gallery curated by Jeff McMillan. These are intense, expressive, often jubilant works, including mud paintings by Jimmy Lee Sudduth,  haunting, shrouded figures by the Mississippi native Mary T Smith, celebrity paintings by Painter Chuckie, the literally bullet-riddled figures of William Burroughs and an array of face jugs (that Gauguin, among other great artists, would have killed for) by award winning potter Jerry Brown.
Large Glass Gallery
392 Caledonian Road, N1 1DN
+44 (0)20 7609 9345
photos: nathalie hambro[/vc_column_text][/vc_column][/vc_row][vc_row][vc_column][vc_empty_space height="50px"][vc_single_image image="3546″ img_size="full"][vc_empty_space height="50px"][/vc_column][/vc_row][vc_row][vc_column][vc_column_text]The forty six artists represented in the show are residents and attendees of social welfare institutions across Japan, and they present diverse bodies of work including ceramics, textiles, paintings, sculpture and drawings. 'Souzou' is a word which has no direct translation in English but a dual meaning in Japanese. It can be written two ways, meaning either creation or imagination. Both allude to a force by which new ideas are born and take shape in the world.
Souzou, Outsider Art from Japan records both intimately personal and expansive approaches to creating art and the processes of making, through six overlapping sections. 'Language' explores the creative release of visual expression for artists for whom verbal or written communication is challenging or impossible. Works range from Takanori Herai's diary of hieroglyphics to Toshiko Yamanishi's kaleidoscopic love letters to her mother, which express depth of emotion through movement and colour rather than words. Ryoko Koda's intricate cityscapes are composed of a single symbol, resembling a fictional character from the Japanese alphabet, while Hiroyuki Komatsu's work recalls word-for-word the dialogue of his favourite TV programmes. 'Making' looks at engagement with material, the repeated use of particular and unusual media, and the meditative and therapeutic aspects of creativity. Koichi Fujino's immersive ink paintings cover every inch of the paper, Yumiko Kawai's textile landscapes are built up through repeated freehand circular stitching and Shota Katsube's repurposing of wire ties creates a vast yet diminutive army of action figures: all these pieces are marked by the occupation and passing of time.
Works in 'Representation' and 'Relationships' reflect the things and people surrounding the artists, often taking surprising and curious forms. The eerie pastel still lifes of Takashi Shuji and abstract assemblages of Takanari Nitta hold an ethereal, otherworldly quality but are inspired by everyday objects, while Satoshi Nishikawa's surreal sculptures of fruit are made entirely from dense aggregates of small ceramic rabbits. Takako Shibata's expansive and repeated portraits freeze her absent mother in time, while Sakiko Kono's dolls – representing friends and carers in the facility where she resides – grow in size and stature according to the levels of her affection. Dreams and desire figure strongly with idealised self-projections in the work of Yoko Kubota and Masao Obata, Nobuji Higa's highly stylised and sexualised nudes and Marie Suzuki's darkly dystopian drawings exploring female sexuality and gender. Self-expression is framed through physical and emotional environments, but interpreted in richly imaginative and sometimes fantastical forms The absorption, reflection and acute observation evident in 'Culture' contests the myth of Outsider Art as being solely reflective of the interior mind. Daisuke Kibushi's immaculately rendered postwar movie posters, copied from memory, Keisuke Ishino's origami figurines and Ryosuke Otsuji's ceramic Okinawan lions all attest to a sharp awareness of the cultural contexts and traditions of Japanese society. The final section, 'Possibility', features works that seek to comprehend and reorder the surrounding world. Koichiro Miya explores notions of ability, disability and super-ability with statistic-strewn works, Shingo Ikeda's beautiful notebook infographics calculate the endless possibilities of subway journeys he might make, and Norimitsu Kokubo's densely sketched cartographies imagine real places through information gleaned online, reframing the world through a keen and creative curiosity.[/vc_column_text][/vc_column][/vc_row][vc_row][vc_column][vc_empty_space height="50px"][vc_single_image image="3547″ img_size="full"][vc_empty_space height="50px"][vc_single_image image="3548″ img_size="full"][vc_empty_space height="50px"][vc_single_image image="3549″ img_size="full"][vc_empty_space height="50px"][vc_single_image image="3550″ img_size="full"][vc_empty_space height="50px"][vc_single_image image="3551″ img_size="full"][vc_empty_space height="50px"][vc_single_image image="3552″ img_size="full"][vc_empty_space height="50px"][vc_single_image image="3553″ img_size="full"][vc_empty_space height="50px"][vc_single_image image="3554″ img_size="full"][vc_empty_space height="50px"][vc_single_image image="3555″ img_size="full"][vc_empty_space height="50px"][vc_single_image image="3556″ img_size="full"][vc_empty_space height="50px"][/vc_column][/vc_row][vc_row][vc_column][vc_column_text css_animation="none" el_class="with-link"]

    back to ART DIARY[/vc_column_text][/vc_column][/vc_row]