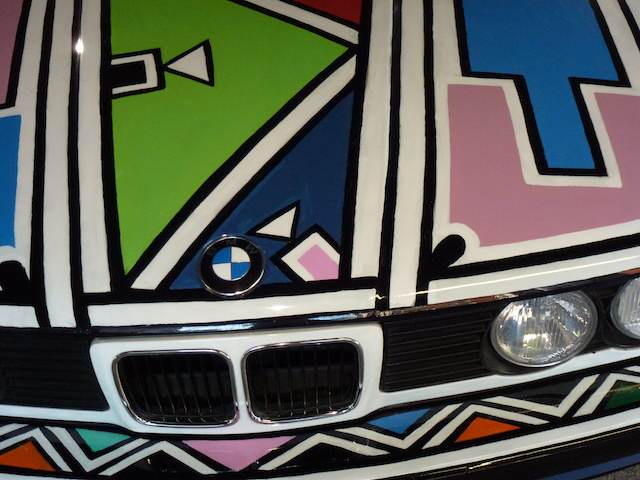 [vc_row][vc_column][vc_single_image image="3699″ img_size="full"][/vc_column][/vc_row][vc_row][vc_column][vc_empty_space height="50px"][vc_column_text]Art Drive!
NCP car park
Great Eastern Street, EC2A3ER
photos & video: nathalie hambro
The ICA showcases the BMW art car collection, presented over six floors of the NCP car park on Great Eastern street, Shoreditch. This pop-up exhibition is an exciting collaboration with BMW and London 2012 Festival which brings the BMW Art Car Collection to the UK for the first time.
The initiative began more than 35 years ago when french racing driver and auctioneer Hervé Poulain invited his friend Alexander Calder to design a car that married artistic excellence with 'an already perfect object'. the resulting automobile would compete in the Le Mans 24-hour race in 1975 and hence the BMW art car was born. since then, other leading international artists have transformed BMW cars including: Frank Stella, Roy Lichtenstein, Andy Warhol, Ernst Fuchs, Robert Rauschenberg, M.J Nelson, Ken Done, Matazo Kayama, Cesar Manrique, Jeff Koons, A.R. Penck, Esher Mahlangu, Sandro Chia, Jenny Holzer and David Hockney.[/vc_column_text][/vc_column][/vc_row][vc_row][vc_column][vc_empty_space height="50px"][vc_single_image image="3700″ img_size="full"][vc_empty_space height="50px"][vc_single_image image="3701″ img_size="full"][vc_empty_space height="50px"][vc_single_image image="3702″ img_size="full"][vc_empty_space height="50px"][vc_single_image image="3703″ img_size="full"][vc_empty_space height="50px"][vc_single_image image="3704″ img_size="full"][vc_empty_space height="50px"][vc_single_image image="3705″ img_size="full"][vc_empty_space height="50px"][vc_single_image image="3706″ img_size="full"][vc_empty_space height="50px"][vc_single_image image="3707″ img_size="full"][vc_empty_space height="50px"][vc_single_image image="3708″ img_size="full"][vc_empty_space height="50px"][vc_single_image image="3709″ img_size="full"][vc_empty_space height="50px"][vc_single_image image="3710″ img_size="full"][vc_empty_space height="50px"][vc_single_image image="3711″ img_size="full"][vc_empty_space height="50px"][vc_single_image image="3712″ img_size="full"][vc_empty_space height="50px"][vc_single_image image="3713″ img_size="full"][vc_empty_space height="50px"][vc_single_image image="3714″ img_size="full"][vc_empty_space height="50px"][vc_single_image image="3715″ img_size="full"][vc_empty_space height="50px"][vc_single_image image="3716″ img_size="full"][vc_empty_space height="50px"][vc_single_image image="3717″ img_size="full"][vc_empty_space height="50px"][vc_single_image image="3718″ img_size="full"][vc_empty_space height="50px"][vc_single_image image="3719″ img_size="full"][vc_empty_space height="50px"][vc_single_image image="3720″ img_size="full"][vc_empty_space height="50px"][vc_single_image image="3721″ img_size="full"][vc_empty_space height="50px"][vc_single_image image="3722″ img_size="full"][vc_empty_space height="50px"][vc_single_image image="3723″ img_size="full"][vc_empty_space height="50px"][vc_single_image image="3724″ img_size="full"][vc_empty_space height="50px"][/vc_column][/vc_row][vc_row][vc_column][vc_column_text css_animation="none" el_class="with-link"]

    back to ART DIARY[/vc_column_text][/vc_column][/vc_row]