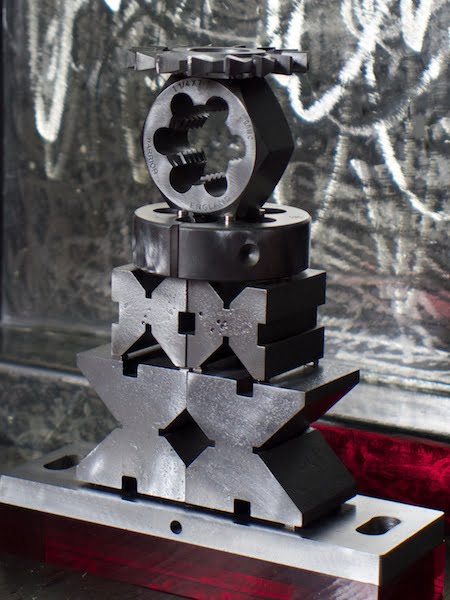 [vc_row][vc_column][vc_single_image image="3500″ img_size="full"][/vc_column][/vc_row][vc_row][vc_column][vc_empty_space height="50px"][vc_column_text]Tower of Strength, steel,  2013
Nathalie Hambro
TOOLS
Art at Annoushka
41 Cadogan Gardens, SW3 2TB
till July 13
photos: nathalie hambro
PRESS REVIEWS
Telegraph: Little Black Book
TOOLS is inspired by Hambro's "passion for hardware". She has worked with a trove of industrial components and weighty builder's implements to conceive sculpture, objet d'art, photography, video as well as a limited edition artist's book. The principal material defining the show is steel. Though it is considered a common metal, Hambro prizes its versatility and has long worked with it, initially to conceive a range of accessories which became sought after and acquired by museums because of their daring sculptural beauty. "When I look at steel I have a strong emotional reaction," she explains.
An internationally renowned creative force, Hambro has turned her hand to all manner of design, from interiors to accessories, fashion and fine jewellers. She is also a critically acclaimed gourmet cook and has produced an array of award-winning writing projects. She studied art history at the École du Louvre yet of the decision she made two years ago to pursue photography and sculpture, she classifies her working method as "spontaneous and un-technical".
Her description belies her rigour and inventiveness. Contemplating an aim of TOOLS, as she studies two large-scale colour saturated polaroids she produced for the show—which reveal an alluring perspective of a machinist's age-old tool box—she adds: "I like to create beautiful things but display them out of their original context."
Her thoughts struck a chord with Annoushka and resonated with the objectives of Art At Annoushka. Establishing the ongoing exhibition series in 2011, Annoushka set out to collaborate with a range of artists to push forward the display and design of fine jewellery. "So it can be experienced in a whole new way," she explains.
Hambro's creative process—which is reliant on intricate manual skill and also wielding power tools—brought to Annoushka's mind her own jewellery-making process. "The tools that Nathalie uses are also very similar to the tools used at the jewellers bench," remarks Annoushka. "They evoke this wonderful feeling of craft, that is so often lacking in our modern world, and which I try to celebrate through my own work."
Yet the inventive industrial aesthetic defining Hambro's works prompted Annoushka to encourage Hambro to go further than merely installing her work on site at her flagship shop and, instead, conjure a bold, decorative environment by curating her entire retail space. "Nathalie's work immediately resonated with me," Annoushka goes on. "Her fascination with metal is both similar yet totally different to mine. While hers is an obsession with an urban feel, my own aesthetic is much more femininely crafted.
I am really excited about the meeting of the two and to have the opportunity of creating something truly original."
"The show works like an installation," adds Hambro. "My pieces interact with Annoushka's space."
A pair of towering, scaffolding-inspired sculptures are site-specific works and made to adorn the bay window from which Hambro will strip off the curtains, so the light streaming in will enhance the shimmer of the polished steel structures from which suspend framed images of "various tools—screws, dies, taps," adds Hambro.
Mobiles, suspended from the ceiling, appear like monumental pendants and serve as another showcase for Hambro's striking tool imagery. Affixed to these cross-shaped hanging art works, which are constructed from narrow strips of perforated metal, is her Ultramarine series—namely, prints which are mounted upon squares of cool aluminium seemingly to intensify their ink blue hue.[/vc_column_text][/vc_column][/vc_row][vc_row][vc_column][vc_empty_space height="50px"][vc_single_image image="3501″ img_size="full"][vc_column_text]Tower of Torment, steel, 2013[/vc_column_text][vc_empty_space height="50px"][vc_single_image image="3502″ img_size="full"][vc_column_text]Architectonic #3, steel, 2013[/vc_column_text][vc_empty_space height="50px"][vc_single_image image="3503″ img_size="full"][vc_column_text]Architectonic #3, steel, 2013[/vc_column_text][vc_empty_space height="50px"][vc_single_image image="3504″ img_size="full"][vc_column_text]Parallel #1, steel, 2013[/vc_column_text][vc_empty_space height="50px"][vc_single_image image="3505″ img_size="full"][vc_column_text]Parallel #2, steel, 2013[/vc_column_text][vc_empty_space height="50px"][vc_single_image image="3506″ img_size="full"][vc_column_text]Dystopian Chapel, steel, 2013[/vc_column_text][vc_empty_space height="50px"][vc_single_image image="3507″ img_size="full"][vc_column_text]Tower of the Fearless, steel, 2013[/vc_column_text][vc_empty_space height="50px"][vc_single_image image="3508″ img_size="full"][vc_column_text]Architectonic #4, steel, 2013[/vc_column_text][vc_empty_space height="50px"][vc_single_image image="3509″ img_size="full"][vc_column_text]Morphic #1, steel, 2013[/vc_column_text][vc_empty_space height="50px"][vc_single_image image="3510″ img_size="full"][vc_column_text]Morphic #2 steel, 2013[/vc_column_text][vc_empty_space height="50px"][vc_single_image image="3511″ img_size="full"][vc_column_text]Architectonic #5, steel, 2013[/vc_column_text][vc_empty_space height="50px"][vc_single_image image="3512″ img_size="full"][vc_column_text]Tower of Silence, sttel, 2013[/vc_column_text][vc_empty_space height="50px"][vc_single_image image="3513″ img_size="full"][vc_column_text]Architectonic #4, steel, 2013[/vc_column_text][vc_empty_space height="50px"][vc_single_image image="3514″ img_size="full"][vc_column_text]Architectonic #6, steel, 2013[/vc_column_text][vc_empty_space height="50px"][vc_single_image image="3515″ img_size="full"][vc_column_text]Architectonic #2, steel, 2013[/vc_column_text][vc_empty_space height="50px"][vc_single_image image="3516″ img_size="full"][vc_column_text]Tower of Defence, steel, 2013[/vc_column_text][vc_empty_space height="50px"][vc_single_image image="3518″ img_size="full"][vc_column_text]Tower of Darkness, steel, 2013[/vc_column_text][vc_empty_space height="50px"][vc_single_image image="3519″ img_size="full"][vc_column_text]Tower of Lightning, steel, 2013[/vc_column_text][vc_empty_space height="50px"][/vc_column][/vc_row][vc_row][vc_column][vc_column_text css_animation="none" el_class="with-link"]

    back to ART DIARY[/vc_column_text][/vc_column][/vc_row]