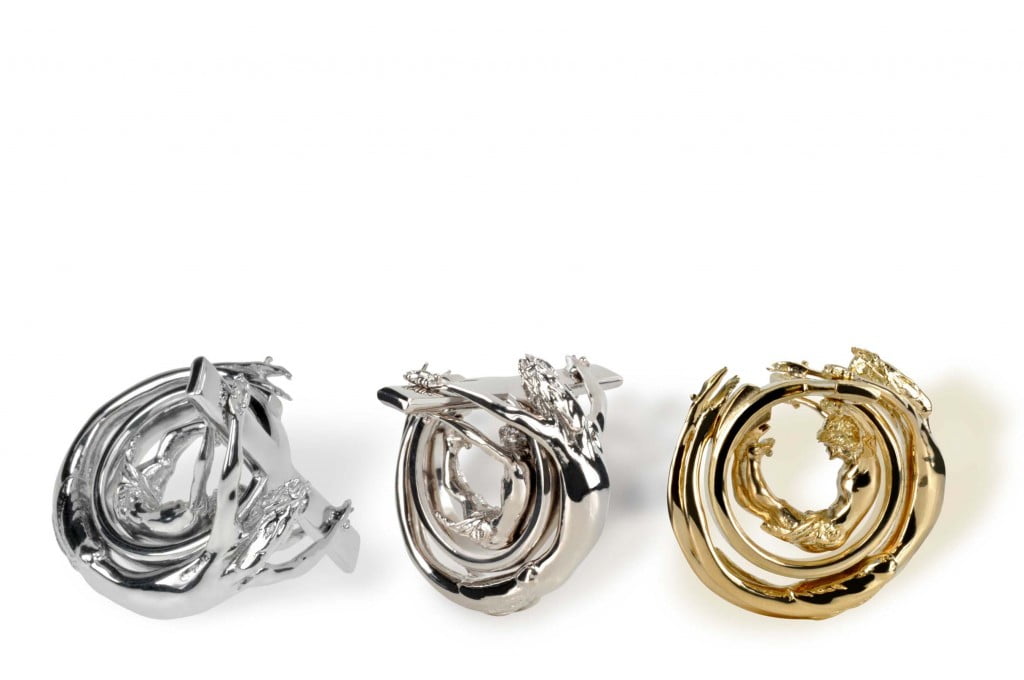 [vc_row][vc_column][vc_single_image image="3838″ img_size="full"][/vc_column][/vc_row][vc_row][vc_column][vc_empty_space height="50px"][vc_column_text]Vim Delvoye
Untitiled
Elisabetta Cipriani
Jewellery by Contemporary Artists
www.elisabettacipriani.com
at SPROVIERI
23Heddon Street, W1B 4BQ
+44 (0) 207 734 2066
+44 (0) 7981 6467 90
The work is Untitled, 2011 . It consists of 8 (18kt gold) rings, one (18kt gold) chain, and the box. All being inseparable and unique.
Delvoye has done three versions: yellow gold, palladium and silver each being unique.
It is the Christ on the cross and it represents his suffering from its twisting. There are 7+1 rings, because these 8 stages present all the mathematically possible permutations of Jesus figures on a ring. It's a mathematical exercise.
They're all 18 kt gold, the remaining elements are silver and copper, which gives a slight greenish hue.[/vc_column_text][/vc_column][/vc_row][vc_row][vc_column][vc_empty_space height="50px"][vc_single_image image="3839″ img_size="full"][vc_empty_space height="50px"][vc_single_image image="3840″ img_size="full"][vc_empty_space height="50px"][/vc_column][/vc_row][vc_row][vc_column][vc_column_text css_animation="none" el_class="with-link"]

    back to ART DIARY[/vc_column_text][/vc_column][/vc_row]